Welcome To Cane Chair Repair (AKA: Citizen Cane Chair Restoration)
We enjoy restoring cane and rush chairs to their original glory but we also offer full service furniture restorations including wicker and rattan work, upholstery and general refinishing and repairs.



Hand Woven Strand Cane Or Machine Woven Sheet Cane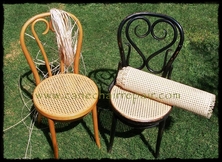 Yes we handle both methods of re-caning your chairs. Antique chairs often were caned using the hand woven method. Then in the 1950's chairs caned with prewoven sheets of cane became prevalent. FYI: Cane is the peeled bark from the rattan vine and has been used in furniture and basketry for hundreds of years. Which ever way your chair was originally caned it will have to be re-caned the same way again. To understand the difference look at the next two images and their descriptions. Click on the images for a closer look...


---

This Is What A Machine Woven Cane Chair Will Look Like
On the left you can see me pressing the spline into the groove or channel that the sheet of cane is tucked into. This is held in place with water based wood glue so it's easier to remove should the chair ever need re-caning down the road. Unfortunately some folks use the wrong glue when caning a chair like this making it much more difficult for the next guy years down the road. It also increased the chance of damaging the chair frame when it comes time to remove the old cane prior to replacement. Click on the image for a closer look...


---

This Is What A Hand Woven Cane Chair Will Look Like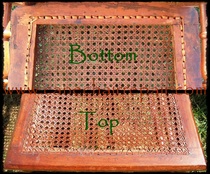 This split image on the left is showing the top and bottom or underside of the same seat on an antique hand caned chair. This type of chair has multiple holes drilled evenly all the way around the perimeter of the seat and/or back of the chair. These are the weaving holes that we thread the strand cane through as we hand weave the chair. On a chair that is designed to receive machine woven sheet cane you will not have these holes but rather a narrow groove or channel only on the top or face side of the seat and or back of the chair. Click on the image for a closer look...


---
We also weave every kind of rush for your chair seats!